F-16 Cockpit Video Of Super Bowl LII Flyover
Have a look at GoPro cockpit footage from the F-16 Fighting Falcon during Super Bowl LII Heritage Flight flyover of U.S. Bank Stadium in Minneapolis, Minnesota on February 4, 2018. Eagles beat the Patriots 41-33. Congrats Philadelphia on your first Super Bowl win!
See how the F-16 pilot inputs data on the keypad below the HUD. Uses his thumb. Just a little military training technique taught to pilots. Results in much more precise input than trying to use your finger in a bouncing aircraft.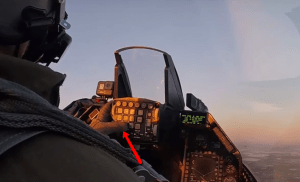 In Heritage Flight flyover you can see that P-51D Mustang Sierra Sue II  A true WWII combat veteran P-51 Mustang lead the flyover formation pilot Steve Hinton is flying P-51
P-51D is followed by two Fairchild Republic A-10 Thunderbolt II .A-10 is known for its amazing Fire power .Best option for close airsupport for ground troops
In the End of unique Formation you can see a F-16 fighting flacon following A-10 . F16 is a legendeary Dog fighter fighter jet of US airforce . More than 40 Airforce in world Use F16 and more than 5000 units of f16 are produced so far