US Republican senators asking Donald Trump to Sell F-35 to Taiwan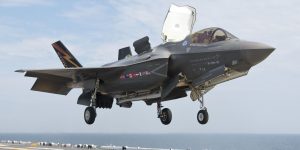 Sens. John Cornyn, R-Texas, and James Inhofe, R-Okla, Two top US Republican senators reportedly asked the Trump administration  to approve the sale of F-35 stealth fighter jets to Taiwan
In a letter to President Donald Trump Senators said that "These fighters will have a positive impact on Taiwan's self-defense and would act as a necessary deterrent to China's aggressive military posture across the Asia-Pacific region"
"After years of military modernization, China shows the ability to wage war against Taiwan for the first time since the 1950's," they wrote. "However, with your leadership, it is possible to help Taiwan remain a democracy, free to establish a relationship with China that is not driven by military coercion."
The White House didn't immediately respond to a request for comment from news media. But close attention is being paid to the letter since it follows Trump's appointment last week of John Bolton as national security adviser. Bolton is a tough critic of Beijing and the United States' "One-China" policy.
F-35B VTOL fighter is ideally suited for Taiwan's military
"Taiwan has a legitimate requirement to field a modern fighter fleet to address a myriad of defense contingencies," Cornyn and Inhofe wrote in their letter to Trump on Monday. "Therefore, Taiwan is requesting US support in their procurement of the F-35B."
But Defense One quoted some analysts as saying that selling the F-35 to Taiwan would anger China and pose more of a risk than a deterrent
You would be upping the ante significantly not just between the Taiwanese and Chinese, but between the United States and China," John "JV" Venable, a retired fighter pilot who is now an analyst with the Heritage Foundation was quoted as saying. "I'm not sure that's worth the risk for the United States."
This first appeared in Asia Times here.