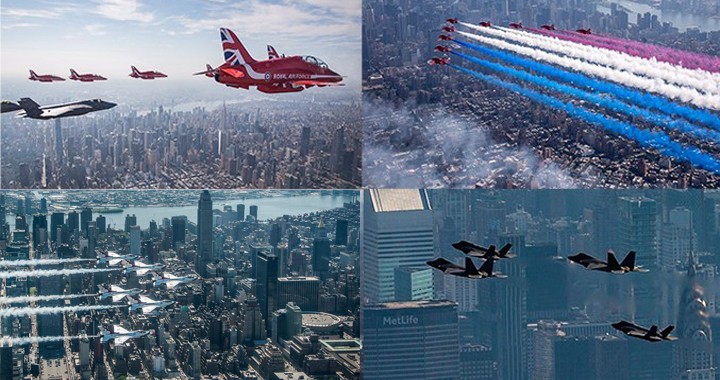 On Aug. 22, 2019 the legendary Royal Air Force (RAF) Red Arrows flew in formation alongside the US Air Force (USAF) Thunderbirds for a historic aerial parade above Manhattan, along the Hudson River and over Statue of Liberty.
History was made as the U.S. Air Force's Thunderbirds, the RAF's Red Arrow and a flight of two F-35As Lightning II jets of the F-35 Demo Team and two F-22s of the Raptor Demo Team flew over NYC ahead of the New York International Air Show to be held at New York Stewart airport this weekend.
History over the Hudson

In a rare flyover, the F-16, F-22, F-35 and the Red Arrows took to the New York skies in an incredible showcase of air power and partnership
@thef35 @F22DemoTeam @AFThunderbirds
? : @rafredarrows pic.twitter.com/aP6frllr1y

— Lockheed Martin (@LockheedMartin) August 22, 2019
Overall, 20 aircraft (including a Red Arrows Hawk jet that acted as camera ship) conducted the flyover on the Hudson River near the Statue of Liberty and Verrazzano Bridge performing passes at 2,500-3,000 ft and trailing colored smokes. The following video (fast forward to 13:15 mark to spot the first jets) shows the flyover:
Unfortunately, the U.S. Navy Blue Angels, initially slated to take part in the aerial parade, could not join the rest of the teams because of operational requirements.
Red Arrows meet @thef35 over New York. Combining so many amazing aircraft and teams over such a brilliant city. Demonstrating the enduring partnership between the #UK and #US. Image by SAC Rose Buchanan. #NewYork #RedArrowsTour pic.twitter.com/XfgKzM0cIl

— Red Arrows (@rafredarrows) August 22, 2019
According to a Thunderbirds press release, six fighter planes flew over the Hudson River in Delta Formation in sequence with the 9-ship Red Arrows formation.
#HudsonFlight: Smoke-On! Air Force Jets Perform New York City Flyover | #avgeek #AFThunderbirds #RedArrowsTour https://t.co/DSxeVerk4Y pic.twitter.com/NM5L4yPCaa

— AvGeekery (@Avgeekery) August 22, 2019
The Red Arrows left nine vapor trails that are produced by pumping diesel mixed with colored dye into the planes' jet exhaust.
Epic! @rafred10 puts his jet in the perfect place to allow photographer Sgt Ashley Keates, flying in the rear seat of the jet, to get this glorious image over New York today. The Red Arrows will appear at #NYAirshow – staged @SWFairport – this weekend. #RedArrowsTour #NewYork pic.twitter.com/xWbWKAqfNt

— Red Arrows (@rafredarrows) August 22, 2019
All of the planes can carry enough diesel and dye to create one minute of red smoke, one minute of blue smoke and about five minutes of white smoke during their displays.
Well that was insane. Huge thanks to @thef35 demo, @rafredarrows, and @AFThunderbirds for helping make this Aerial Parade over the Hudson such a historic and memorable event. As always… #RaptorNation pic.twitter.com/dsF7NA8KWb

— F-22 Demonstration Team (@F22DemoTeam) August 22, 2019
After buzzing Manhattan, all aircraft followed the Hudson River down to Liberty Island before going back up the river.
You don't see this on your wing every day – @F22DemoTeam and @thef35 with us over New York. Image by SAC Rose Buchanan. #NewYork #RedArrowsTour #F22 #F35 #RAF #USAF #UK #US #NYAirshow pic.twitter.com/8YtNRDoud8

— Red Arrows (@rafredarrows) August 22, 2019
Did you get to see the flyover from #WestPoint earlier today? @RoyalAirForce's @rafredarrows flew in formation over the Hudson River today as a preview to the New York International Air Show @airshowny taking place Aug. 24 and 25. #USArmy Video by Matthew Moeller pic.twitter.com/esx06r8tCL

— U.S. Military Academy (@WestPoint_USMA) August 22, 2019