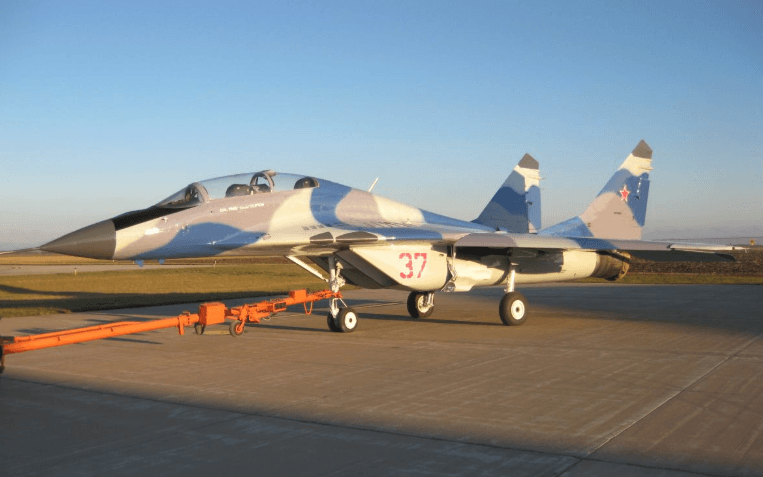 Have you ever wanted your own fighter jet?
Even better, one with an extra seat to take a friend to Mach 2?
If so, Hurry up A U.S.-based used airplane broker is selling a Cold War–era MiG-29UB fighter jet for only $4.65 Million. Jet has less than a thousand hours on it, and have proper maintenance
It flew for the private threat simulation and training contractor Air USA in Quincy, Illinois. It was registered to an address in Henderson, Nevada not far from Nellis AFB and the massive Nellis Test and Training Range, home of some of the most classified aerial combat training exercises in the world
It is a beautiful, late model United Aircraft Corporation MiG-29UB (NATO codename "Fulcrum") two-seat tactical aircraft.
The aircraft listing went up on the Raptor Aviation website recently. The two-seat MiG-29UB was built in 1986 at the Kalyazinsky Machine Building Plant north of Moscow. The airframe has a total of only 818 flight hours since manufacture and only 118 hours since a complete airframe overhaul at the Lviv State Aircraft Repair Plant in Ukraine. The paint is very fresh looking, a beautiful three-color, blue and two-tone gray air superiority color scheme with Russian Aerospace Forces national markings and "bort" number "37". It carries the U.S. civilian experimental aircraft registry of N129XX.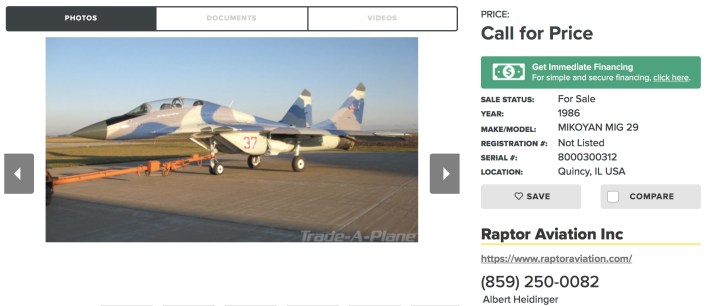 Realistically, a low-time, recently depot-overhauled twin-engine, two-seat, highly capable 4th generation combat aircraft for only $4.65 million is a very good value. New price for a MiG-29, depending on version, ranges from approximately $11-20 million USD. If you decide to do some comparison shopping, consider a Cessna Citation XLS business jet with 2,000+ hours sells for $7.1 million. The price of a bargain-basement (and less capable) Chengdu FC-1 Fierce Dragon single-engine fighter is over four times higher than the marked-down MiG at $20 million USD. These prices make the $4.65 million for the '86 MiG-29UB seem like a bargain.

The MiG's two Klimov RD-33 afterburning turbofan engines means you can take a special someone to Mach 2.4 or as high as 60,000 feet, which should be high enough to see the curvature of the earth. The MiG-29 only has a range of 1,100 miles, so cross-country flights will require a few stops to take on additional fuel.

This particular aircraft is a two-seater trainer fighter, with room for student and instructor pilots. Out of military service that means there's room for you and a date.