F-15C "Golden Eagle", the latest Eagle avionics update in the US Air Force
                      (Written by Nicolás Zelaya)
F-15C at Red Flag exercise carrying an AN / AAQ-33 Sniper XR pod
F-15C Golden Eagle la última versión del Eagle responde a las necesidades de la USAF con respecto a la amenaza que representa el Su-35S Flanker-E de la RuAF y el J-10B Vigorous Dragon de la PLAAF. Una vez más Boeing IDS se encarga de la actualización de 179 F-15C MSIP II integrando lo siguiente:
Radar AN / APG-63 (v) 3 AESA : Radar de apertura sintética de barrido electrónico de alta resolución de imágen. Consiste en el AN/APG-63(v)2 mejorado con todo lo estudiado y aprendido del AN/APG-79 AESA, incluyendo la antena, software, resolución, etc.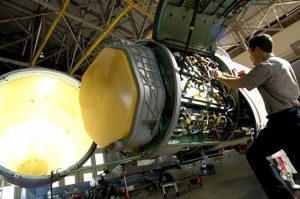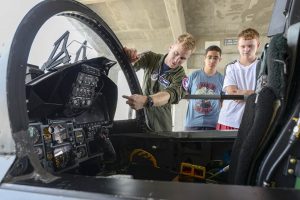 ADCP II (Advanced Display Core Processor II): Es capaz de procesar 87 mil millones de instrucciones por segundo de rendimiento informático, lo que se traduce en una capacidad de procesamiento de misión más rápida y confiable para el piloto. El sistema puede rastrear simultáneamente múltiples objetivos y proporcionar una capacidad de orientación aire-aire altamente efectiva, incluso cuando encuentra amenazas avanzadas equipadas con tecnología de jamming.
EPAWSS (Eagle Passive/Active Warning Survivability System): El EPAWSS está diseñado para mejorar la efectividad de la misión y la capacidad de supervivencia de la aeronave contra amenazas existentes y emergentes. Ofrece soluciones de geolocalización, conocimiento de la situación y autoprotección para detectar y vencer las amenazas en la superficie y en el aire en entornos de alta densidad de señal y altamente controvertidos.
JHMCS (Joint Helmet Mounted Cueing System): La mira montada en el casco permite a piloto una vista de 360° alrededor del caza, el piloto puede saber donde estan sus objetivos con solo mirar hacía donde los sistemas indican la amenaza. Gracias al nuevo AIM-9X Block II el piloto puede guiar un misil AIM-9X con el casco hasta que la cabeza buscadora del misil encuentre un objetivo.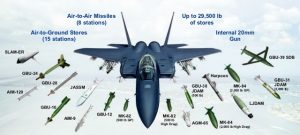 Raytheon AN/APX-119 IFF: Este transpondedor combinado de capacidad Mk XII / Modo S / Modo 5 permite a las aeronaves operar sin problemas en el espacio aéreo internacional, civil y militar, cumpliendo con todos los requisitos de IFF y ATC. El AN/APX-119 combina las últimas tecnologías de procesamiento digital con la experiencia IFF demostrada
AIM-120C-7/D AMRAAM: Nuevas capacidades BVR con los misiles mejorados AIM-120C-7 y AIM-120D.
AIM-9X Block II Sidewinder: Permite un disparo fuera del punto central del misil, en conjunto con el casco JHMCS.
Upgrade BLOS (Beyong Line Of Sight): Mejora de las comunicaciones de radio que vinculan al personal o los sistemas demasiado distantes o demasiado oscurecidas por el terreno para las comunicaciones de Line Of Sight. Estas radios utilizan repetidores activos, propagación de onda de tierra, enlaces de dispersión troposférica y propagación ionosférica para extender los rangos de comunicación de unos pocos kilómetros a unos miles de kilómetros.
Passive Attack Sensor System AN/AAQ-33 Sniper XR (Extended Range): Sistema FLIR de alta resolución de imágen, el pod puede geo-ubicar objetivos con hasta 10 veces más precisión que un pod AN/AAQ-14 del sistema LANTIRN
Infra Red Seach & Track Lockheed Martin Legion Pod: El Legion pod puede seguir varios objetivos en el campo de batalla, junto al sistema IRST21 puede seguir un objetivo, atacarlo de manera pasiva con misiles IRHM, y hasta compartir datos de telemetría con otros aviones mediante Data-Link.
Boeing Talon HATE: Bus de información compartida entre F-22A Raptor y F-35A/B/C Lightning II, consiste de un dispositivo Data-Link 16 y un compartimiento IRST más procesamiento de datos e información compartida en una estructura montable tipo DFT.
Pilon de carga BVRAAM: Boeing diseña un dispositivo de adaptación para nuevos pilones para aumentar la capacidad de misiles en el F-15C Golden Eagle, la capacidad actual de un F-15C es de un total de 8 misiles, Boeing espera aumentarla hasta 12.